IF THERE IS ONE THING IM GOOD AT ITS SEEING WHEN. SOMEONE HAS HAD SOME TYPE OF WORK DONE.. MISS WILLIAMS IS SEEN HERE LOOKING YOUNG AND LIKE HER FACE HAS BEEN PULLLED BACK BY THONGS. IM SURE WENDY HAS BEEN KEEP UP WITH HER BOTOX, AS YOU ALL KNOW HER T.V. SHOW WILL BE BACK NEXT YEAR.
CHECK LOCAL LISTING FOR TIMES.
HERE IS AN OLD PIC OF WENDY!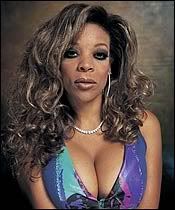 SO CAN YOU SEE? WHAT I SEE?